Students from Cape May County Recovery High School take the day off from school for high speeds on the racetrack.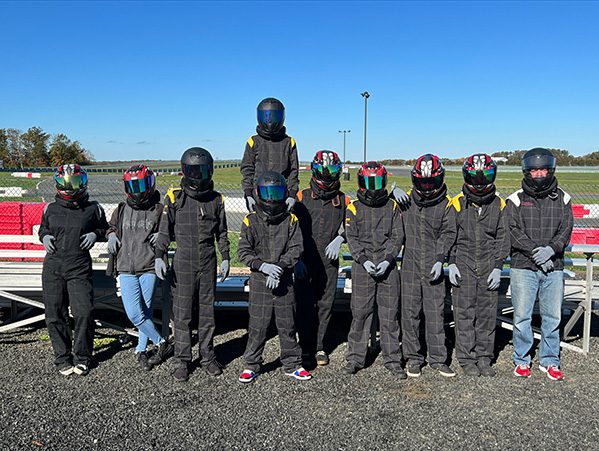 Coast Preparatory High School students suited up and ready to take things full throttle at NJMP.
Millville, NJ – Nine students who attend Coastal Preparatory High School in Cape May Court House suited up and strapped in on Oct. 27 at the New Jersey Motorsports Park in Millville to race go carts and spend time outside of the classroom. The trip was generously funded by the Greg DiAntonio Memorial Fund, a nonprofit based out of North Wildwood.  
Coastal Prep High School is one of only three recovery high schools in the state.  A partnership between Middle Township School District (MTSD) and Cape Assist, the school ensures that students recovering from substance misuse can also stay on track academically, thanks to special support. Field trips like these help students unwind and have fun while they work hard through this process. 
"Seeing the smiles on our kids' faces always reminds us of how important it is that we give Coast Prep students time to be that – kids," said Anna Cannella, Coast Prep High School Transition Coordinator. "They work hard to be where they are today, so we need to thank groups like the Greg DiAntonio Memorial Fund for giving them opportunities like these."  
"We are proud to be able to sponsor events for children facing similar battles our son faced," says Kreni DiAntonio, co-founder of the Greg DiAntonio Memorial Fund. "It's about taking away the stigma that these struggles must define all of who they are, but we believe that children deserve the chance to define themselves through happiness as well as their trials." 
The Greg DiAntonio Memorial Fund was established to honor the legacy of DiAntonio, a loved son and member of the community who battled with substance misuse. The fund aims to support projects that promote education and recovery as well as remove the stigma from addiction in families. Supporting events like this one goes a long way to helping students on their own journeys. The non-profit donated a total of $2,000 to Cape Assist to help fund Coastal Prep's field trips for the current school year.  
"It's important our students know we aren't just here for them when there is a problem, they have a community behind them that will always support them," said Katie Faldetta, Executive Director of Cape Assist. "We're also looking to provide them with a fun environment they can enjoy and feel proud of participating in." 
"We're so proud of our students' accomplishments here at Coast Prep," said Dr. Toni Lehman, Assistant Superintendent of Curriculum & Instruction for Middle Township School District. "Watching their growth and transformation, it only proves they deserve to be rewarded with fun experiences like these, where they're also feeling continued support in a productive environment."  
Coastal Preparatory High School serves communities in and outside of Cape May County. Advocates, educators, and professionals from Middle Township School District and Cape Assist have been providing them a safe space in dealing with substance misuse issues since 2019. To learn more visit www.coastalprephighschool.com, www.capeassist.org and www.gregdiantoniomemorial.com.