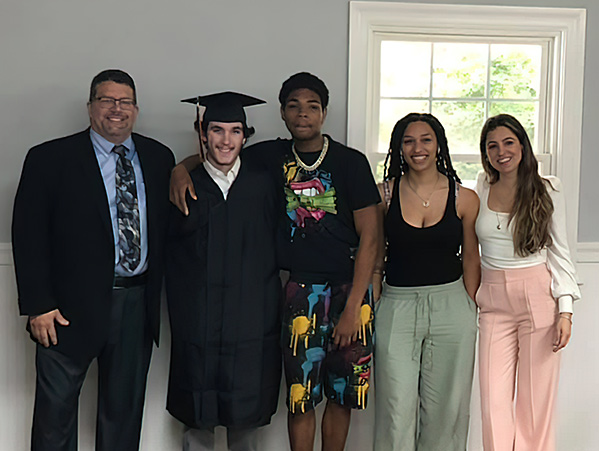 Pictured l-r: Coastal Prep Interim Director Frank Riggitano, Warren Weimer, classmates Samuel Cottman and Neveah Wise, &Transition Coordinator Anna Cannella
Cape May Court House
– The Warren Weimer who first entered the Coastal Preparatory Recovery High School (Coastal Prep) in December 2019 is not the same young man leaving – not by a long shot. From introverted and withdrawn to communicative and receptive, Warren faced his challenges head-on and persevered, working through tough times and a pandemic.
And now the Galloway resident has great cause to celebrate – he just graduated from high school, and earned the distinction as the second student to graduate from Coastal Prep. Surrounded by family, classmates, teachers, and administrators, Warren accepted his diploma during a ceremony held at the school in Cape May Court House on June 14.
"Warren's accomplishments are incredible, and we are all so proud to see him graduate," said Dr. Toni Lehman, Director of Curriculum & Instruction for Middle Township School District. "Being able to witness his growth and maturation is extremely rewarding. Transformations like his are why recovery high schools like Coastal Prep exist. We want to give students an accountable environment to grow and feel supported."
Coastal Prep is the state's third recovery high school that serves teens in South Jersey. Since March 2019, it has provided education and emotional support to high school students who are in recovery from substance abuse. The school works with students' sending high schools  to streamline the curriculum, and partners with Cape Assist, a substance-abuse treatment agency based in Wildwood, to ensure students receive needed services.
Warren enrolled in Coastal Prep in December 2019. When he first arrived, he was shy and introverted, and he internalized a lot of his feelings. In working one-on-one with Transition Coordinator Anna Cannella, Warren's social confidence improved tremendously.
"From the beginning, Warren wanted to be here," said Cannella. "Where others may have given up, he persevered despite the obstacles. We're glad we were able to see him through and are excited for his next chapter."
Warren's far from a social butterfly, but it is evident that he has worked hard to overcome his struggles. He's developed strong friendships with his classmates, fully entrusted his teachers and therapists, and strengthened his relationships with his family, to whom he is very close.
"The growth and change we've seen in Warren over these last two years is remarkable," said Interim Director Frank Riggitano. "He's learned how to process his emotions and feelings in a healthy way and is now able to express himself much more freely, which will help him tremendously in the future."
Warren has a spotless attendance record. Even when schools were closed for the pandemic, Warren was there virtually. He even attended on days that weren't required, just to support his classmates. Scholastically, Warren thrives with hands-on lessons. He naturally gravitated to art classes and used them as an outlet for self-expression. After impressing his art teacher with a few poster designs, she entered his work into the 2021 Cumberland & Cape May Counties Teen Arts Festival and shared in his joy as he was recognized and awarded a prize.
"Warren is a shining example of perseverance, achieving success despite challenges and hardship," said Middle Township School District Superintendent Dr. David Salvo. "He's also achieved the milestone of being Coastal Prep's second graduate. We are so proud of the progress he made, both personally and academically. With his drive and strong work ethic, he's on the path to continued success."
Now that Warren's graduated, he plans to join the workforce – first hoping to find a part-time job for the summer. Because he enjoys creating and working with his hands, Warren would like to learn more about construction. With his work ethic, dependability, and textile skills, he will be an asset to whatever career path he chooses.